Posted by DrJeff on November 23rd, 2011
Filed under 0. Site News, 2. Nature of Exploration, 3. Science Education, 6. Cool Spacecraft
Copyright 2011 | About this blog
Click on the image and feel the magic. Astronaut Rick Mastracchio on EVA outside the International Space Station, August 15, 2007. Visit the NASA Human Spaceflight Image Gallery for more information.
Those of you following this blog know that a core philosophy I embrace is that science education—indeed all education—should be about exploration owned by the learner, and as teachers and parents our charge is to light their way. It is something I believe deeply.
I've had the distinct honor of sharing that philosphy this past year with thousands of educators at conferences, e.g., the National Science Teachers Association (NSTA) National Conference. In order to reach an even wider audience, I'm grateful that John Boswell at Symphony of Science was able to turn my thoughts and words at NSTA into a music video We've Got to Be That Light. How he took a guy speaking in the front of an audience and turned it into something you'd want to upload to your music library is pretty magical. If you've not seen the music video yet, take a look. If you have seen it, and you're a teacher that needs to decompress a bit over Thanksgiving and a shot in the arm before returning to work might help, take another look.
Those that preach have an obligation to put their words into practice. It's the "put up or shut up" argument. If one complains about something, in this case the state of education, then either demonstrate a fix or don't complain. So I'm listening … to myself. If education is about ownership in learning, then science education ought to be about ownership in science—experiences that allow students the ability to truly be scientists. And I firmly believe that if you give a 5th grader the ability to do real science, all you need do is gently guide, get out of the way … and be amazed.
So I created the Student Spaceflight Experiments Program (SSEP), a true STEM education initiative that is designed to immerse students in real science, and along the way, engage their entire community. In this context, there is another deeply held belief at work—it takes a community to educate a child and a network of communities to reach a generation.
Read the rest of this entry »
Posted by DrJeff on July 31st, 2011
Filed under 0. Site News, 2. Nature of Exploration, 3. Science Education, 6. Cool Spacecraft
Copyright 2011 | About this blog
Click on the image and feel the magic. The International Space Station (ISS) with Endeavour (STS-135) docked. 16 SSEP Experiments are aboard. ISS dwarfs Endeavour.
As Center Director for the National Center for Earth and Space Science Education, I'm proud to share a new program opportunity for real student research in orbit—for students in your community. The Student Spaceflight Experiments Program (SSEP), which we launched in June 2010, saw 27 student-designed flight experiments on STS-134 and STS-135, the culmination of 31,000 students engaged, and 1,027 student team proposals for experiments. For the past month, we've been working hard to reconfigure the program for routine operations on America's newest National Laboratory—the International Space Station. Today, we just announced the opportunity! I wanted to let folks know about it here, and invite you to think about this program for YOUR community:)
-dj
Sunday, July 31, 2011
Private Sector Effort Offers Real Research Opportunity for Grade 5-16 Students aboard International Space Station, 50,000 Expected to Participate
Next Phase of Bold New STEM Education Program that Attracted National Attention with Student Experiments on Final Flights of Shuttles Endeavour and Atlantis, and Provided Participation to 30,700 Students
THE NATIONAL CENTER FOR EARTH AND SPACE SCIENCE EDUCATION (NCESSE) ANNOUNCES AN IMMEDIATE AND HISTORIC OPPORTUNITY FOR COMMUNITIES ACROSS THE U.S. TO PARTICIPATE IN THE FIRST STUDENT SPACEFLIGHT EXPERIMENTS PROGRAM (SSEP) MISSION TO AMERICA'S NATIONAL LABORATORY IN SPACE—THE INTERNATIONAL SPACE STATION (ISS). THE PROGRAM IS ALSO OPEN TO ISS PARTNER NATIONS.
SSEP is a keystone Science, Technology, Engineering, and Mathematics (STEM) Education program launched as a U.S. National initiative in June 2010. More broadly, SSEP is about a commitment to student ownership in exploration, to science as journey, and to the joys of learning. For school districts—even individual schools—it provides an opportunity to implement a systemic, high caliber, and historic STEM education program that is tailored to a community's strategic needs in STEM education.
Deadline for Letters of Commitment from Interested Communities:
September 15, 2011
Jump to: SSEP MIssion 1 on the International Space Station Announcement of Opportunity
The SSEP on-orbit research opportunity is enabled through NanoRacks LLC, which is working in partnership with NASA under a Space Act Agreement as part of the utilization of the International Space Station as a National Laboratory.
Posted by DrJeff on July 14th, 2011
Filed under 2. Nature of Exploration, 3. Science Education, 6. Cool Spacecraft
Copyright 2011 | About this blog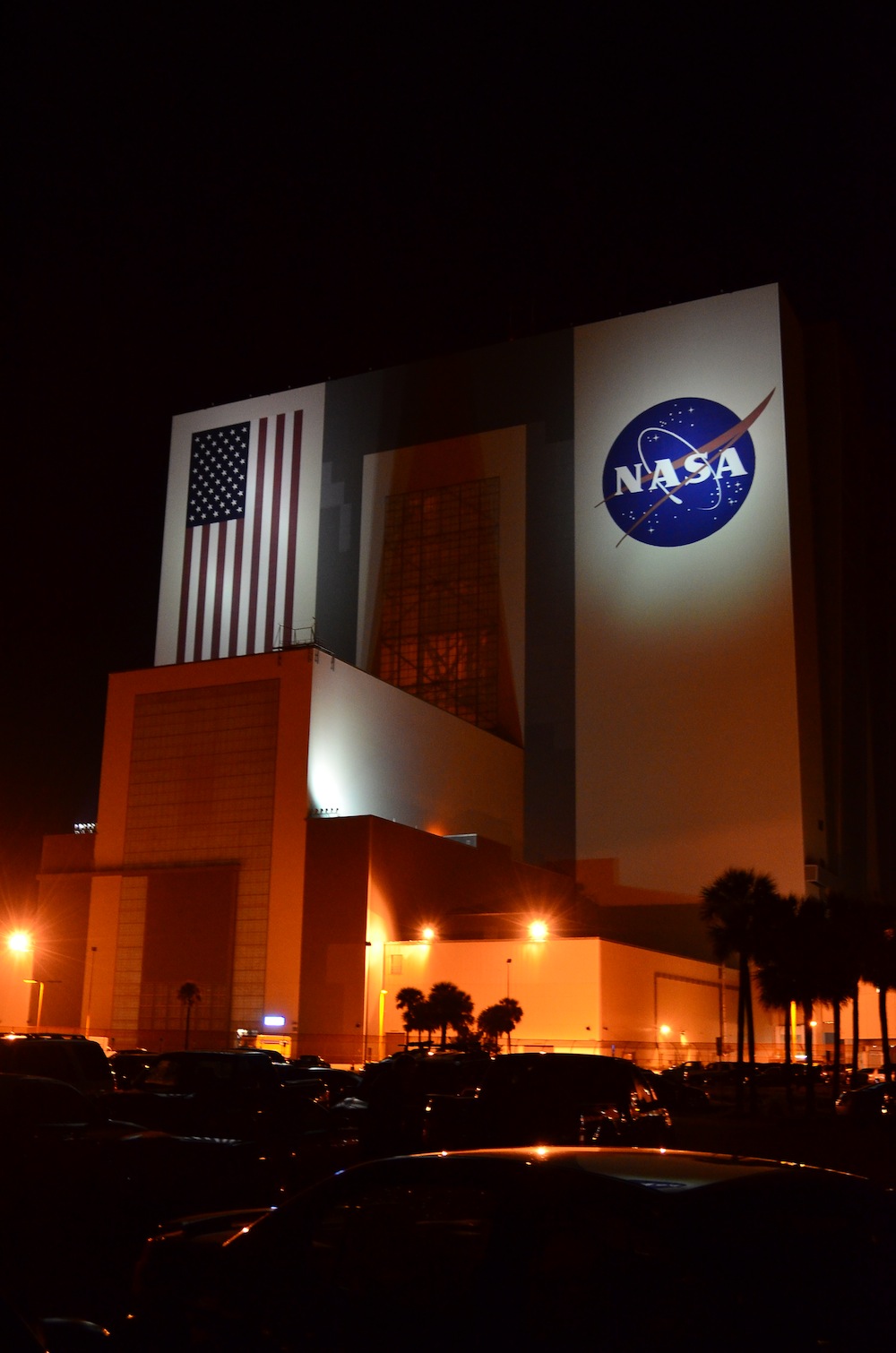 Photocaption: Vehicle Asembly Building (VAB) during the final mission of the Space Shuttle program (STS-135).  Photo by Eric S. Ackerman. CLICK FOR ZOOM
This past year has been a humbling experience for me, the staff of the National Center for Earth and Space Science Education and the thousands of students and teachers in the 27 communities participating in the Student Spaceflight Experiments Program (SSEP). Enabled by a Space Act Agreement between NASA and NanoRacks, LLC, we've all had the adventure of a lifetime. We've had the distinct honor of being part of history, and part of the 30 year legacy of the United States Space Shuttle program. The Space Shuttle, and the National Aeronautics and Space Administration—both national treasures—stand for what is a fundamental regarding the nature of our existence—our need to know, to question, to push the boundaries of what is familiar, and to broaden our understanding of ourselves. Anyone witnessing the final Shuttle launch on July 8 at Kennedy Space Center (I was lucky enough) could not help but be overwhelmed by what we have done as a nation of spacefarers, and realize that the dawn of a new era is at hand. To all those that are participating in SSEP, you need to know that you are helping to blaze a trail into that new era, and there has been no bigger supporter of your achievements than NASA. With the 27 experiments aboard Endeavour and Atlantis, selected from over 1,000 student team proposals, you, the next generation, are the link between a celebrated past and a future in space exploration that is only now being written. And this remarkable journey we've been on together? It has really been about celebrating the past, embracing the present, and inspiring the future. Isn't that what learning and exploration are all about?
Read the rest of this entry »
Posted by DrJeff on June 17th, 2011
Filed under 2. Nature of Exploration, 3. Science Education, 6. Cool Spacecraft
Copyright 2011 | About this blog
Photocaption: Endeavour (STS-134) and ISS as seen by ESA astronaut Paolo Nespoli in a Soyuz capsule.
We were eagerly awaiting Endeavour's return to Earth on June 1. Student teams across the nation had experiments aboard. It was the culmination of a many months long process where 19,700 grade 5-12 students across America were given the opportunity to design experiments to be placed aboard Endeavour on her final flight, and they all felt like they were part of history.
It's also been a very special program for me. It has been a labor of love (and one which has taken me away from another labor of love—this Blog.) I still remember sitting in that restaurant sketching out the program structure on a napkin. You know, napkins are pretty important tools for anyone who wants to craft vision. I suspect some of the greatest accomplishments of the human race started on napkins. I wouldn't be surprised if John F. Kennedy one day sat down for lunch with his advisors and sketched out a plan to land a man on the Moon before the decade was out. Then that historic napkin was likely left on the table, and tossed in a trash can by an unsuspecting waiter. But I'm willing to bet there was a napkin.
Well Endeavour landed and there was euphoria in the participating communities. We even had a live video feed from the payload processing lab where technicians were harvesting the precious experiments (and we'll have it again for the 11 experiments on STS-135.)
Then the stunning video below was broadcast to the world. I am so proud to say that aboard Endeavour in this video are the 16 experiments of Our Center's Student Spaceflight Experiments Program (SSEP). It offers a dramatic new perspective of this keystone U.S. National STEM education initiative that is engaging tens of thousands of grade 5-12 students in real science on orbit—their science.
Imagine watching this video, as a member of a 5th grade student team with your science experiment aboard Endeavour, that you designed, and it's in orbit … right there! If that doesn't inspire America's next generation of scientists and engineers, and teachers of science across the nation, well, I'm not sure what will. And we've got 11 more experiments ready for launch on the final flight of Atlantis and of the U.S. Space Shuttle Program.

Read the rest of this entry »
Posted by DrJeff on October 5th, 2010
Filed under 0. Site News, 2. Nature of Exploration, 3. Science Education
Copyright 2010 | About this blog
Hi all-
I'm now back from the intensity of months spent creating and launching the Student Spaceflight Experiments Program (SSEP), with 25,000 students across the U.S. now designing real experiments to fly aboard the second to last Space Shuttle flight, STS-134, the flight of Endeavour in February 2011. Pretty cool, huh. The SSEP is designed to provide regular student access to SPACE for grades 5-12, and leverage that exciting opportunity across entire school districts. SSEP embraces the notion of STUDENT AS SCIENTIST.
A big favor to ask—PLEASE help us spread the word on the SSEP via your social networks. We want to make sure that the nation knows about this bold new national STEM education initiative. If you're on Twitter, here are two Tweets you can just cut and paste!
UPDATE: Student Spaceflight Experiments Program Now in Full Swing, GO FOR LAUNCH – http://ssep.ncesse.org
How do you get kids excited about #science? LET THEM *BE* SCIENTISTS. And why not on the #SPACE SHUTTLE. http://ssep.ncesse.org #nasa
Speaking of Twitter, and to help me ease back into Blog on the Universe, below is a steady stream of consciousness on education that I unleashed on my PLN (Personal Learning Network) last night (October 4, 2010). I thought I'd share. If you're a Tweep, by all means feel free to Re-Tweet any and all to your PLN. And if you think Twitter is not about education, and really just for folks that want to broadcast what they had for lunch (I call them lunchies), read my post at Huffington Post titled The Remarkable Power of Twitter—A Water Cooler for the 21st Century. I think it does a great job of providing a real understanding of social media for education, and the means by which these online environments allows us to reach out in meaningful ways to the world.
One review: "Kudos, Jeff. This is one of the best posts about Twitter I've read in a long time. You really describe it well, especially the best that it has to offer."
Here now my Tweets last night—
In our classrooms, let's not lecture, but instead, entice the gift of a question. #education #teacher #science #school
Read the rest of this entry »